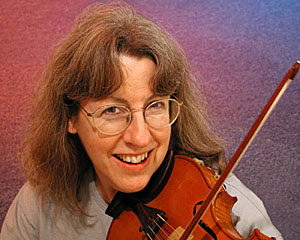 Coming from a classical music background, it was hard for me to get away from playing exactly what was on a page of written music. It took me awhile. But the fun of playing good dance music is that you really want to improvise, to make the music go with the dance, to change the mood, and play with what the musicians around you are doing.

I help teach some "slow jam" sessions in the Raleigh, NC area, and teach a few students privately. I really enjoy helping adult students realize that they can play a fiddle and have fun--it doesn't have to be perfect to have fun with it!--and slow jams are a great way to help people get started learning a tune by ear and get a feel for the sound and the personality of the tune.

For contra dances, I play primarily with Roger Gold as half of The Elftones, a fun, very high-energy, fiddle / guitar / foot percussion duo. I also team up with a variety of wonderful musicians like Dave Wiesler, Julie Gorka, Ted Ehrhard, Laura Lengnick, Pete Campbell, David DiGiuseppe, and Dean Herington. Besides contra dances, I also like to play for Scottish country dances and English country dances.

You can read more about me on my website, www.marashea.com, and listen to some of the other music that I play.